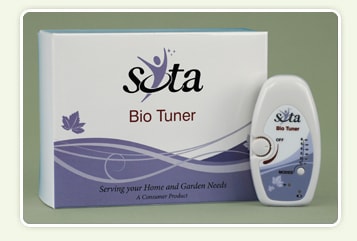 Model: BT9
$275.00 USD
The Bio Tuner by SOTA is an easy-to-use relaxation product for stress relief. It outputs harmonic frequencies to promote health. This unit features an automatic built-in timer for 20-minute sessions.
Sharing your Experience with the SOTA Products helps others.
Share
We invite you to visit the SOTA Community
The SOTA Community offers:

Shopping Cart


Product Demonstration Videos


Frequently Asked Questions


The SOTA Products User Guide


The SOTA Story


All past issues of our SOTA eNews


and more …

Please understand that results are
unique for each person.


"I would like to take this opportunity to thank you guys and let you know how impressed I am with the fast shipping as well as the quality of your products. I have been using the Bio Tuner for over a month now, and it has helped me with jet lag and overall level of energy and well being. I also recently bought the ozonator and love the taste of a 'fresh' glass of water in the morning and the feeling of starting the day on a positive note. I will definitely recommend your products to my friends and colleagues. Thank you so much for your great products."
Fritz R, British Columbia, Canada

I purchased the Bio Tuner and can't begin to tell you how happy I am with it. I had never actually known what it felt like to be truly happy or excited about anything. It took 25 days with 20 minutes on Mode 1 twice a day morning and night to turn me into a new man. It literally changed my life. Thanks to SOTA for making this possible.

Adam D., Australia

"I have one (SOTA Bio Tuner) and it's good for a multitude of different issues. I especially find it induces deep relaxation and supports mental and emotional wellness. Now my mind is clear, my emotions balanced, I feel great and I can accomplish a lot more in a day. I am using these tools on my customers and noticing they are gaining tremendous results as well. I highly recommend all of these products as I have experienced wonderful results with them and they are so easy to use."
Kym C., Alberta, Canada

My only regret? That I did not discover the Bio Tuner sooner. I truly feel that the Bio Tuner has changed my life, and that is an understatement!

C. Luongo, New Jersey, USA
"I have had one of these [Bio Tuner] for many years and they are way cool feel good machines..."
Louis J., Alabama, USA

"It is amazing how much difference the Bio Tuner has made to my life, right from the start. I am calmer. Life seems easier and I wake up happy, thinking of new possibilities. Getting more done. I used to take things in my stride when I was younger. Over time that faded. Thankfully, I'm back to that state again and it's wonderful. As the unit is battery-operated, I love the portability of it too."
Heather W., Victoria, Australia

It has now been the better part of a year since I finished using the Bio Tuner and I have my life back. It worked for me and I love the sense of freedom I feel now. I commend SOTA for making these units available to humankind. The Bio Tuner really made an absolute difference to me.

Andy, New York, USA

"Recently, I started regularly using the Bio Tuner again. I use it for one 20-minute session and do about 10 minutes of meditation afterwards. I have noticed increased mental clarity, focus and calm. It's profound."
Paul R., Ontario, Canada

"I started using the Bio Tuner for about 25 minutes per day. A couple of days later, I could feel a little lifting. Then a couple of more days passed, and I felt a little more lifting. On day 7, I woke up and knew I was back to myself. That was 5 years ago."
Connie K., Illinois, USA

"I love my Bio Tuner! It's really helpful to keep me calm & focused."
B.H., Kentucky, USA

It improved the quality of my sleep 100% … It brings about deep relaxation.

Paul Rekstad, Florida, USA

"I think that your products are excellent. The BT7 is the best $200.00 that I have ever spent."
Stephen Seidel, Iowa, USA

Over all I am very happy with my Bio Tuner. Thank you for providing such a helpful product and for your very courteous service as well. I just purchased another Bio Tuner, so I can share it with friends who want to try it.

John V Christianson, California, United States
"I have used your Bio Tuner for two months now and have to say that it's made a big difference in my life. I knew there had to be something out there that would help me and then I found these bio-electric devices and it just made sense since our bodies are electrical in nature. I started to really notice a difference about three weeks into using the Bio Tuner. Finally something is working! I was just more comfortable in my everyday business. This is what I was hoping this device would do and it did. I have been unemployed for some time, but now feel like I can finally get going with my life again."
R.R., British Columbia, Canada

"My brother told me about the Bio Tuner. I admit I was very skeptical about this technology. Day after day, I continued with the Bio Tuner and I just keep feeling better and better. I feel really positive after three weeks of use now. I also sleep the best I have in years. Thank you for making this technology available to us. It has truly been the key for me in my life."
John Thurman, California, USA

"I use the Bio Tuner whenever I am under high stress, such as traveling internationally to teach seminars, or before speeches ... I use it when needing to perform mentally at a higher rate."
I.S., Washington, USA

"I have to say how delighted I am after my first month using the Bio Tuner. It is the most wonderful experience to once again be able to feel centered and focused in meetings."
N.Z., South Africa

After a session with the Bio Tuner, I feel relaxed, peaceful and more confident.

Keith Larson, Saskatchewan, Canada

"I felt a lot more relaxed. I began to enjoy simple, everyday activities a lot more. I felt more joy and spirituality. I am calmer and less aggressive making me a nicer guy."
Peter Veenstra, British Columbia, Canada
"I'm using the Bio Tuner in an alternative way with adhesive electrode sticky pads instead of the ear clip electrodes and it works very well. I have another electronic product for using the pads, but it just seems much easier with the BT-9. I like the fact that I can apply the pads, slip the unit on with armband, and be mobile. If I have to get up and leave the room, I can. Not so with most other instruments that use sticky electrodes. I can also bump up the intensity during a session easily. Needless to say, I love the armband and Sota Products... the freedom to not be attached to a stationary device is really great!"
Kenneth S., Manitoba, Canada

"I want to thank you for the over the top help that you gave me to figure out what was going on with my unit. One doesn't see that kind of customer service so much anymore. Happily I was able to use the information you sent to get the unit working again. I love my Bio Tuner and now I love the people who make it!! "
Scott B., California, USA

Thank you for the excellent video. Even after years of use I learned something new and with a deeper appreciation of the Bio Tuner. Great stuff, keep it up. I never thought keeping it in one mode would acclimatize me, I used to only use on one setting. I liked that tingle. Now I know its better to rotate the settings.

Ted C., California, USA
back to top