To receive the SOTA News by email, please go to My Profile and choose to subscribe.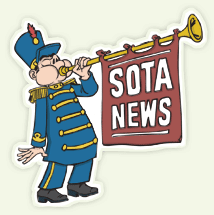 September 2005

WOZ4 Sold Out

Our Water Ozonator, WOZ4 is sold out. The new WOZ5 design is in progress. Improvements will be mostly cosmetic to match our new look. Our goal is to keep the price below $300. It will be at least 6 months before we have this new product in stock. We'll keep you posted.



September 2005

New Product Design -  LightWorks

This new, easy-to-use LED-based light unit will offer the benefits of:

1. LIGHT: Both RED and INFRARED with 60 LEDs (Light Emitting Diodes) on each side of a Wand.

2. SPECIAL FREQUENCIES: Silent frequencies pulse the light in carefully researched settings.

These electromagnetic  frequencies help stimulate health and well-being. The LightWorks runs on an Automatic Cycle giving you the benefit of eight modes, or you have the option of choosing a specific mode. Although it's still too early to order, we'll keep you posted.



January 2005

Exciting Plans for a SOTA Community

We've sent a letter to everyone on our database that outlines our exciting plans to better serve you. Includes: "Thank you, Thank you, Thank you ... for your patience, your caring and your support these past eight years." Outlines our journey through the halls of government regulation and our decision to change. And, "We're too excited to keep quiet any longer! We understand and share many of your frustrations at not having access to honest information about our units - how they came to be, how they work and how they have helped others. So ... " Announces our plans for a private SOTA community. And more ...