SOTA News August 2020
What's Happening at SOTA?
Laboratory Tests Show Water Ozonator Sterilizes Water
The SOTA Water Ozonator isn't just for ozonating drinking water. Did you know it sterilizes water, too?

Laboratory tests confirm 3 virulent pathogens and more were killed. Check out here:


You probably already know about one of our most popular learning tools – the SOTA How-to Videos. These videos are one of the easiest ways to get up-to-speed on how to set up and use each of the SOTA units.

For those of you who would like a written version to read at your leisure; to highlight or jot down notes... look no further!

We have transcripts available for each of our current model videos. Click on this button:
From there choose the video of your choice, you'll find the "View Video Transcription" link directly below the video.

These videos and transcripts are a great complement to the product manual that accompanies each SOTA unit. Please be sure to read the complete product manual before using your unit – the most up-to-date version of each manual can be found here:


Cotton Sleeve Alternatives
Cotton sleeves for micropulsing eventually need to be replaced. Did you know it's easy to make your own? No sewing required!

In this video clip, Russ Torlage of SOTA Instruments shows you how to make sleeves from common materials you likely already have around the house. He also shares a SOTA alternative you may not be aware of–cotton sleeves WITHOUT Velcro®.
Check out our other SOTA Product Tip Videos. Consider Subscribing! We're adding new videos all the time!


Caring for Your SOTA Products
Our units are designed to last years and years, and with proper care you can extend the life of your SOTA units even more.

Cleaning your SOTA products:

| | |
| --- | --- |
| •  | Wipe down your unit with a soft cloth. |
| | |
| --- | --- |
| •  | If need be, use a tiny bit of white vinegar, window cleaner or eyeglass cleaner on the cloth, but be careful not to get any moisture into the internal components of the unit. |
| | |
| --- | --- |
| •  | Micropulsing cord — gently wipe the metal pins, and clean the outside and inside of the Rubber Probes. |
| | |
| --- | --- |
| •  | Bio Tuner cord — remove the Ear Clips and gently wipe the metal pins. Remove the Conductive Rubber Probes, clean them, and place them back in the Ear Clips. |

SOTA's Newest Product, the LightWorks Pad
Curious about the LightWorks Pad? Check out our product information, including features, what's included, product manual, and a whole lot more!


Storing Ozone with the Water Ozonator
The ideal situation is to drink freshly–ozonated water within 20 minutes of ozonating, so you'll maximize the amount of ozone you ingest.

But what if you don't have 20 minutes available? Or if you've a long drive ahead of you? In this quick video, Russ Torlage of SOTA Instruments explains how to store ozonated water so its benefits will last several hours beyond the initial 20 minutes.
Check out our other SOTA Product Tip Videos.


Why can't I feel the current on my wrists?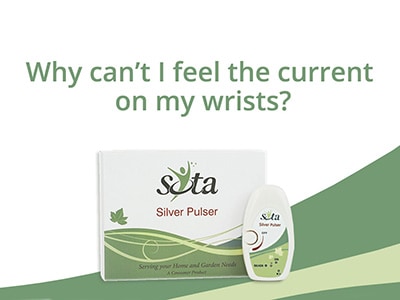 Sometimes even experienced Micropulsers have days when they don't feel the pulsing – or it seems weaker than usual. Each individual is unique, and there are a lot of variables in how each of us sets up the Silver Pulser for Micropulsing. There isn't one single reason why the strength of the pulse might feel weak.

Here are the most common causes:

Hydration

Make sure you are well–hydrated (this is probably the most common issue). We've found that customers who are dehydrated often have trouble feeling or detecting the pulse. Good hydration is essential to good health!

Wrist Strap and Cotton Sleeves Positioning

Ensure the Cotton Sleeves are over the pulse points and that the Wrist Strap is holding the sleeves firmly against your skin. This will ensure good contact between the Cotton Sleeves and your wrist.

Salt

Although many people use plain old tap water, you can add several grains of salt to some water and dampen the sleeves with that. This will increase the conductivity.

Conductive Gel

Another alternative is to add Conductive Gel to the wet sleeves. This will also increase the conductivity and can be gentler than salt.

Cotton Sleeves

How wet are the Cotton Sleeves? If too wet, the moisture can pass between the two Cotton Sleeves diverting the current away from the pulse points, so you won't feel the microcurrents. Your wrist and Wrist Strap should be as dry as possible in-between the Cotton Sleeves. On the other hand if the Cotton Sleeves aren't wet enough, that's a problem too, as you won't feel the microcurrents. Aim for a "happy medium".

Also, remember to periodically clean your Cotton Sleeves with a mild soap solution and rinse well with water. Over time, residue may build up on the cotton which may prevent you from feeling the pulse.

Rubber Probes

Remember to periodically clean your Rubber Probes inside and out, with a mild soap solution, followed by a good rinse of water. Over time, residue may build up on the Rubber Probes preventing you from feeling the pulse.

If you've been using the same pair of Rubber Probes for quite a while, it might be time to replace the Rubber Probes. Over time, the Rubber Probes will lose conductivity. You can test them by turning the intensity dial up to full. Hold the Rubber Probes so they are touching lengthwise. Hold one probe still and rotate the second probe around it, making sure the two probes are always touching. Does the YELLOW Light consistently flash brightly?

If the YELLOW Light comes on brightly, the Rubber Probes are fully conductive. If the YELLOW Light is not consistent or goes out or dims, the Rubber Probes need to be replaced.

Cotton Sleeves Alternatives

For some people, the thickness of the Cotton Sleeves can interfere with feeling the current. As an alternative, you can try one of the following:

Unbleached Paper Towel: Cut a small square of paper towel large enough to wrap around the Rubber Probe 2 or 3 times.

Moisten prior to use.

Make your own Cotton Sleeve: Cut a small square of cotton material and wrap around the Rubber Probe with thread. Moisten prior to use.

Keep in mind – as long as the YELLOW Micropulsing Light is flashing and you feel the pulsing, everything should be working just fine.

How the pulse is felt is unique to each individual. And remember, the intensity dial does not need to be turned up all the way, nor does your hand need to twitch. You want to turn the intensity up to a level you can tolerate.

To learn more about this or our other Frequently Asked Questions, please visit:


What can be done to reduce skin irritation on the ear lobes?
A few individuals may experience skin irritation when using the Bio Tuner.

Here are some suggestions to reduce irritation:

Wash ear lobes before applying the Electrodes. Our skin has natural oils that can interact with the electricity which may result in a "stinging" sensation.

Wet the Ear Clip Rubber Electrodes with water before each session, or use conductive gel or colloidal silver gel to wet the Ear Clip Rubber Electrodes.

Turn down the intensity.

Wash ear lobes after each session and apply a healing gel or lotion such as aloe vera, vitamin E oil or MSM cream.

To learn more about this or our other Frequently Asked Questions, please visit:


Medical Medium — Heavy Metal Detox Smoothie
None of us is immune from heavy metals. They can be absorbed through touch, inhaling, through dental fillings, even food that we eat ... they're everywhere.

Heavy metals (examples include mercury, cadmium, arsenic, chromium, thallium, and lead) are toxic even in the smallest amounts. Over time, they can contribute to reduced mental function, lower energy, and damage to organs resulting in compromised immune systems. This can set the stage for viruses and pathogens, like Epstein–Barr to flourish.

So how do we get rid of these toxic heavy metals we've accumulated? They don't just disappear on their own.

What if it was as simple as drinking a smoothie? In this video Medical Medium Anthony William shares the power of wild blueberries and a quintet of foods in the Heavy Metal Detox Smoothie that act as a team to grab onto and eliminate heavy metals.

You can also learn more by visiting his blog at:


Enjoy!

Follow Us on Facebook!
The highlights we've shared in this issue of SOTA News are just a sampling of our weekly Facebook posts from the last month. If you enjoy what you've read, you can keep up with the latest news and insights on our Facebook page. Follow us at www.facebook.com/sota.instruments