SOTA News July 2020
What's Happening at SOTA?
If you've been waiting to order more Airstone and Tubing (AST) for your SOTA Water Ozonator ... wait no more! They are in stock and available for shipping!

This is a great opportunity to replace an older AST, or order additional ones for ozonating fruits and veggies.

The Airstone and Tubing is available for order on our website, www.sota.com or by contacting our Customer Care Team at 1.250.770.2023 or 1.800.224.0242 (toll-free in Canada & USA) or email

[email protected]

.

Are you eligible for an Upgrade?
Absolutely!
Own an older SOTA unit? If you do, the SOTA Upgrade Program is always available to you. Upgrade your original model to our newest model – at any time – at a discount of up to 50% off.

This isn't one of those "time-limited" deals ... this opportunity is always available to you.

Own a similar unit from another company? Our SOTA Upgrade Program may have something for you, too.

Our Customer Care Team is here to help. Tell us the make and model of your unit, and we'll run the numbers for you. You can reach us at 1.250.770.2023 or 1.800.224.0242 (toll-free in Canada & USA). We're open Monday-Friday, 8AM-4PM Pacific time. You can also email us at

[email protected]

.

For more information on our Upgrade Program, please visit here:

SOTA Product Kits are a great way to save over purchasing units one-by-one. There are several Kit options available ... take a look at:

SOTA Product Wellness Programs
Looking for more information on integrating the SOTA Units into your Wellness Program?

The SOTA Products User Guide is the place to look.

Chock full of tips and recommendations for getting started, the Guide also has suggestions for each unit in terms of usage during a:
| | |
| --- | --- |
| •  | Basic Wellness Program |
| | |
| --- | --- |
| •  | Focused Wellness Program, and |
| | |
| --- | --- |
| •  | Ongoing Wellness Program |

Use of the SOTA Products is not a one-size, fits-all approach. With that in mind, the Guide offers a framework you can personalize and tweak to meet your needs.

Energize and more with Ozonated Water
Can I use pure oxygen with the Water Ozonator?
The Water Ozonator was not designed for use with pure oxygen. The Water Ozonator uses ambient air to produce high quality ozone. Pure oxygen can be very hard on the internal components of any ozonator. As a result, the components needed for pure oxygen-fed ozonators are very expensive. Medical grade ozone units that use pure oxygen are much more costly. Using ambient air, the SOTA Water Ozonator remains affordable and simpler to use in the home.

To learn more about this or our other Frequently Asked Questions, please visit:

Feel Relaxed with the Bio Tuner
Find your own little bit of serenity with the SOTA Bio Tuner.

Simply place one ear clip on each ear to promote feelings of peace and tranquility. Use during the day to feel grounded and balanced while dealing with life's daily stressors or in the evening to calm the mind and support full-body relaxation.

To learn more about the SOTA Bio Tuner please visit:

Using Two Paddles with the SOTA LightWorks
Russ Torlage of SOTA Instruments demonstrates using two Hand Paddles at once with the LightWorks Model LW2. It's quick and easy!

With the touch of a button you can control which combination of colors are activated, and you can target two areas at once ... or you and a friend can share and both benefit from energizing LED light.

Check out other SOTA Product Tip Videos at:

Consider subscribing! We're adding new Product Tip Videos all the time!

How deep does the LED light penetrate?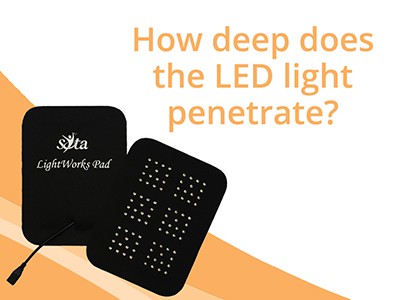 The degree of penetration varies depending on the color of the light. The fact that light interacts with the body is more important than how deeply a color penetrates. Light of any color is effective as the light creates reactions in the body similar to photosynthesis in plants. The benefits of light continue after the session has ended.

With regards to penetration depth, although Near Infrared (NIR) cannot be seen, it penetrates the deepest. Light penetration decreases moving from Infrared to Red to Orange to Yellow to Green to Blue. Blue has the lowest light penetration.

Other factors that determine how deeply light penetrates are:
| | |
| --- | --- |
| •  |  A greater intensity of light increases the penetration compared to a lower intensity of the same color. Intensity is measured by Joules per cm² or milliwatts per cm². |
| | |
| --- | --- |
| •  |  The skin can determine the depth of penetration. The skin is able to absorb light more deeply in certain areas of the body. |
| | |
| --- | --- |
| •  |  Most importantly, light can penetrate more deeply into the body if it travels along a meridian—one of the invisible light transmission paths originally discovered by the Ancient Chinese as part of the acupuncture system. |

Follow Us on Facebook!
The highlights we've shared in this issue of SOTA News are just a sampling of our weekly Facebook posts from the last month. If you enjoy what you've read, you can keep up with the latest news and insights on our Facebook page. Follow us at www.facebook.com/sota.instruments