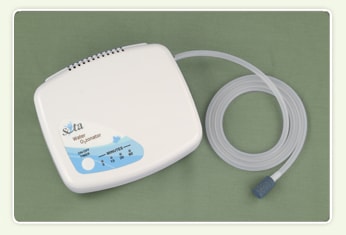 Model: WOZ5
$395.00 USD
The Water Ozonator by SOTA is designed to produce a glass of fresh ozone water for drinking, to increase oxygen content of the water and give a fresher taste. Independent laboratory tests show the SOTA Water Ozonator "sterilizes drinking water that is heavily contaminated with several different micro organisms."*
The SOTA Water Ozonator is portable as it operates using 12 Volts. Ozone output is greater than 200 mg/Hr.
* Nova Biologicals Inc., Texas, US
Sharing your Experience with the SOTA Products helps others.
Share
We invite you to visit the SOTA Community
The SOTA Community offers:

Shopping Cart


Product Demonstration Videos


Frequently Asked Questions


The SOTA Products User Guide


The SOTA Story


All past issues of our SOTA eNews
and more …

Please understand that results are
unique for each person.


I have been nothing short of blown away at your dedication to your customers. I drink ozonator water every day and the difference in my energy levels and how I feel is astounding. Thank you for making a real quality water ozonator. If only more people knew how wonderful these machines are.

Michael C., Barcelona, Spain

"This little machine is so easy to use. The Water Ozonator comes in a beautiful case and you literally plug it in and go. We managed to live through the hot, smoky days of summer by starting every morning with a small glass of ozonated water. This is a wonderful company, with great integrity."
Penny K., British Columbia, Canada

I am a loyal and long time beneficiary of your amazing, health-promoting products. I use the water ozonator daily. I continue to recommend your products to friends all over the world. Thank you for all that you do to restore health to the multitudes!

Bimini C, Massachusetts, USA

"I have had this unit (WOZ5) for almost five years, and I wanted to let you know that I have not had a single issue in all those years... It's wonderful. Thank you! It's a great product, and I would highly recommend it."
Jeff B, Texas, USA

"We ozonated the water while traveling in the car and anytime we felt thirsty. I ran the machine through the cigarette lighter adapter. We drank the water immediately after ozonating it. For the hike we drank as much we could before hitting the hill. I believe it helped us in functioning at the higher altitude and with stamina as well."
P.M., California, USA

"I think the ozonated water has been the tastiest water I have ever had."
Kanta M., Ceuta, Spain

Just a quick message to say I absolutely love my new Water Ozonator. I use it every day, twice a day. I've noticed that when I come in from work very tired, late in the evening I drink one glass and I stop yawning.

Sean D., California, USA

"Thanks for being there and we love the new Water Ozone Generator. Beautiful. It functions and operates like a dream."
Curtis Cooperman, New Jersey, USA

I am convinced that the ozone is a very important part of this protocol. I love you all SOTA. You are my friends and family that I haven't met, but love with all my heart.

A.I., Ukraine

I purchased a sota water ozonator about 4 years ago. I bubble about 2 glasses of water every day. Never a problem! Sota instruments are good and durable!

Thomas R., Ontario, Canada

"I have used these units for over 6 years now as part of my overall plan to maintain my health and zesty spirit at the age of 81 years … I have the Silver Pulser, Magnetic Pulser and Water Ozonator. Thank you SOTA for being a partner with me in my ongoing commitment to staying healthy."
Alice Manzer, California, USA

When I started drinking ozonated water I felt better almost immediately. The difference was quite dramatic.

Paul Holloway, United Kingdom

I am so impressed by your water ozonator, both by the ease of use as well as the compact design...not to mention excellent-tasting water in only 5 minutes! I have it with me on vacation in Grand Cayman. Using it daily!! Thank you again for a wonderful product.

Ann N., Michigan, USA

"My husband and I now have the Water Ozonator, and from the first drink I could feel the life-giving energy. I praise God that you are here to help me and others."
Rose Elliot, California, USA
back to top