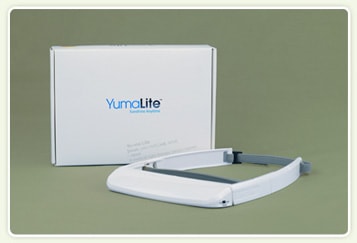 Model: YL2
$90.00 USD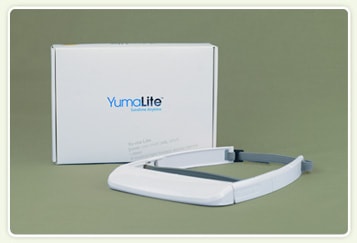 Model: YL1
$60.00 USD
Special Offer: Purchase a

YumaLite YL1

for $30.00 USD with the purchase of any SOTA unit. Please contact Customer Care to take advantage of this offer. This offer available while quantities last.
The YumaLite® offers the benefits of LED light to gently stimulate the body electric for more energy, health and well–being. The easy–to–use visor design of the YumaLite allows you to select either White or Red LED light. The light helps balance the effects many feel during times of decreased exposure to natural sunlight due to long hours in an office, shift work, jet lag, seasonal changes or dark winter days. Natural sunlight affects our mood, sleep patterns and energy levels – giving us an overall sense of well–being helping us to enjoy life. The YumaLite delivers gentle light to the eyes allowing us to experience the benefits of natural sunlight.
In addition, the Red light further helps to balance the constant blue light we are exposed to from long hours of staring at computer and cell phone screens. The overabundance of blue light tends to stimulate, affecting our circadian rhythms and sleep patterns, whereas the Red light helps to bring balance to the blue.
Sharing your Experience with the SOTA Products helps others.
Share
We invite you to visit the SOTA Community
The SOTA Community offers:

Shopping Cart


Product Demonstration Videos


Frequently Asked Questions


The SOTA Products User Guide


The SOTA Story


All past issues of our SOTA eNews


and more …

Please understand that results are
unique for each person.


Thank you for the YumaLite. It is like sunshine for me every day! I love it and have been telling everyone I know about it.

Laurie K., Ontario, Canada

"I love being a mom of four kids, but to be the mom I want to be, I have to be firing on all four cylinders from the time I get up in the morning. That's a challenge. Add in the winter and then dealing with sick children—I'm often awake more when it's dark than light. Mornings are tough for me. YumaLite helps me find the energy and alertness I need to get all the kids organized and off to a great start for the day."
Janice W., Ontario, Canada

"As a university student who loves sleeping in, missing class can be an issue. Lack of energy in the morning can be the difference between staying in bed all day and enjoying the day given to me. Instead of getting back into bed after hitting the snooze button these days, I put on my YumaLite and within moments I can feel motivated and energetic enough to get out and maximize my day. Forget buying a coffee every morning. It's like the sun personally coming to wake me up—a must–have for non–morning people."
Luca L., Ontario, Canada

I love it! I use it every day. It really has made a big difference in my life.

Chris G., Ohio, USA

"I've never liked winter, especially the lack of daylight hours. I wake up in the dark and by late afternoon it's dark again. That's always made me feel down, and I've never known what to do to perk myself up. I'm so thrilled about YumaLite. It truly is the perfect device for me."
Gail T., Ontario, Canada

"I love sunshine and I love the summer. I do not like winter. For me, winter has always been something to slog through to get to spring and summer. My big weapons against the season are exercise and trying to eat the right foods. That helps, but sometimes it's just not enough. I've always known that light therapy can help, but I never had the time to sit in front of a light box. But YumaLite solves that problem for me. I wear it in the morning while walking around and getting ready for work. It's my new weapon against the winter blahs and I love it."
Donald C., Ontario, Canada
"I've been wearing my YumaLite every morning since I have received it and can see a positive change in my mood and even energy level. It is convenient and easy to accommodate in my morning routine. Being from Northern Canada where there is limited sunlight (if any) during the winter months, YumaLite is not an option, but a necessity!"
Judy F., Alberta, Canada

Toronto winters can be rough. My YumaLite does wonders for making the dark days of winter easier to get through. Just wearing it for half an hour in the morning as I get ready for work makes such a difference to my mood for the rest of the day.

Emily O., Ontario, Canada
back to top