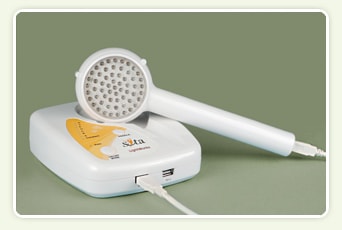 Model: LW2
$385.00 USD
The LightWorks by SOTA offers the benefits of LED light combined with healthy frequencies. These frequencies gently stimulate the body electric for more energy, health and well-being.
Either Red or Near Infrared (NIR) light can be readily applied by placing the Paddle anywhere on the body. A built-in timer automatically cycles through healthy frequencies or individual settings can be chosen.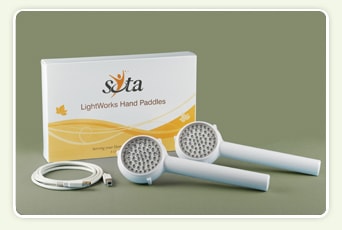 Model: HPLW2
$295 USD
Two additional Color Hand Paddles can be purchased for use with the LightWorks. One Hand Paddle features Orange on one side with Yellow on the other. The second Hand Paddle has Green on one side with Blue on the other. Each color has a long history of use for health benefits.
Sharing your Experience with the SOTA Products helps others.
Share
We invite you to visit the SOTA Community
The SOTA Community offers:

Shopping Cart


Product Demonstration Videos


Frequently Asked Questions


The SOTA Products User Guide


The SOTA Story


All past issues of our SOTA eNews


and more …

Please understand that results are
unique for each person.


"It's just amazing what the LightWorks LED light
can do!"
Ed S., Ontario, Canada
"I knew I needed an infrared light unit and the best one I found for the best price was the SOTA LightWorks. If someone told me I couldn't have this unit, I'd be really distraught. This technology is priceless to me. There are no ifs, ands or buts about this - it works!"
T.A., Nebraska, USA

"SOTA is a good company and they are truly happy to help in any way they can. I am very grateful to have found the LightWorks device."
Marcia S., British Columbia, Canada

Finally found someone who mentioned LightWorks, and subsequently, SOTA. Pretty impressive. From what I've seen, this is the most comprehensive and least expensive way to deliver the healthy benefits of light. Great price, well thought out design, easy, versatile implementation.

Ted Edwards, Washington, USA
"I am well pleased with the LightWorks LW2; my knees and I thank you, SOTA. I think it is a great product!"
Charles G., Arizona, USA

When it comes to providing the basics of light therapy, no one does it better than SOTA.

Carlos H., Washington, USA

Both the LightWorks and the Magnetic Pulser are essential tools in my wellness arsenal.

Lisa C., Idaho, USA
"SOTA has made a believer out of me and each day is so much easier. Thank you for making the SOTA LightWorks."
Darryl B, NS, Canada
"I have been a fan of this technology for a number of years. It is great that it is now available for use."
Randy G., British Columbia, Canada

I have bought five LightWorks Infrared instruments. We gave the SOTA LightWorks to all of our children. Most of them use it regularly. I find the LightWorks is most helpful. I have many, many examples of its use. Thanks for making them.

Barbara C, New Hampshire, USA
"I placed the LightWorks device underneath his T-shirt on Infrared automatic cycle and went to go pick up take-out. By the time I got back, he'd done both shoulders, and was telling me how much better he was feeling. This is from the guy who never tells me that anything feels better."
Jennifer Ruby, Texas, USA
"After applying Modes C and E for 15 minutes each on his spine using the Infrared side of the Hand Paddle. I watched Charlie go from a dog who wouldn't go next door to visit his friends to the bouncy little guy I once had."
Lynn Clow, British Columbia, Canada

I have now used the LightWorks daily, usually for an hour, for about 6 weeks. I am most pleased with the results. I discovered the Near Infrared side worked best on my knee. I am very satisfied with your product.

N.H., California, USA

Many thanks! We look forward to using this new LightWorks technology. If it is half as useful as the Magnetic Pulser it'll be worth its weight in gold.

Kim Smith, Ontario, Canada
back to top